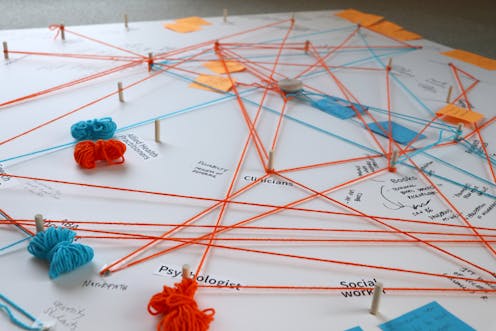 Sitting in a circle, a group of researchers and caregivers of people with autism spectrum disorder weave blue and orange yarn around a circular peg board. One parent describes the challenges she faces in finding the right research and resources to support her child.
"I need respite care, in order to have time to do research into respite care," she says.
Another parent chimes in: "Depending on where your child is on the spectrum, you might just be grasping at anything you can get." And another adds: "If you're stressed out and someone says (people with autism) should stop eating cheese, I'm going to stop my child from eating cheese."
Autism spectrum disorder (ASD) is the most common neurological disorder in children and it is impacting our society in profound ways. In Canada, more than 515,000 people are affected and approximately 87,000 of these are school age. ASD now affects one in 68 births. And, given this prevalence rate, it is estimated that there are 60,000 people affected by ASD in British Columbia alone.
For parents with children on the spectrum, finding credible research among the vast amount of information available can be challenging. In B.C., once a diagnosis is confirmed, families accessing autism funding must learn to navigate a complex system of therapies and supports. They are often left to their own devices to make immediate and critical decisions about where invest their money, knowing that each delay could cost their child the potential benefits of early intervention.
These families urgently need better access to knowledge — on best practices, the latest research and evidence-based treatments and support.
To address this need, we at the Health Design Lab at Emily Carr University have been collaborating with the Pacific Autism Family Network (PAFN) since 2015 to gain a better understanding of the communication challenges and research needs of families in the ASD community in B.C.
An interactive vision wall
The Health Design Lab is a research and design centre that works with industry and community partners to improve health products, services and systems — through a "human-centred design" approach.
We work with organizations and communities to ensure that the thing being designed (for example a system, object, communication, space or service) meets the needs of the people who will be using it. We view these users as experts of their own experiences and believe it is crucial to involve them in the design process.
Our work with the Pacific Autism Family Network to understand family and researcher needs within the ASD community in B.C. has included creating an interactive installation at the grand opening of the Goodlife Fitness Family Autism Hub. We asked visitors to contribute to a vision wall and a live bar graph, highlighting where families currently access research.
Mapping the system with string
Most recently, in January 2017, HDL facilitated a series of four "co-creation workshops" with researchers and families to understand how these groups are communicating and to generate ideas to improve access to research.
We had 26 caregivers and family members of individuals on the spectrum, and 20 researchers and service providers participating in these workshops.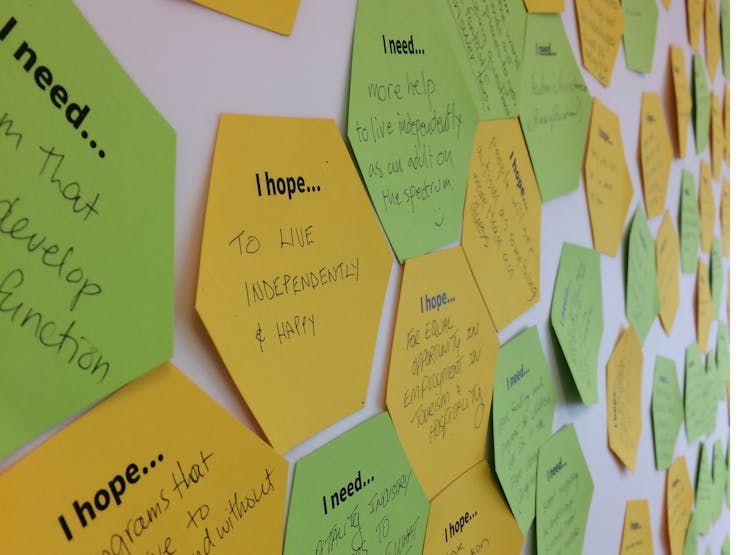 The first half of each workshop aimed to understand the current state of communication between researchers and family members. We used a string mapping activity, in which researchers used blue string to indicate where they typically disseminate information, and families used orange string to indicate where they typically search for research and information. This highlighted gaps in the access and exchange of research.
We designed objects and hands-on activities to trigger conversation, foster dialogue and draw out latent and tacit knowledge from participants. The second half of the workshop used an interview format and group discussion to generate ideas for improving communication and knowledge exchange in the future.
"Co-creation" is a strategy that has been used in other health-care and social projects to improve communication between stakeholders by creating a level playing field in which all participants can express themselves in meaningful ways. We felt that co-creation activities would be useful in this context, too, to break down barriers between researchers and families and acknowledge both groups as knowledge holders.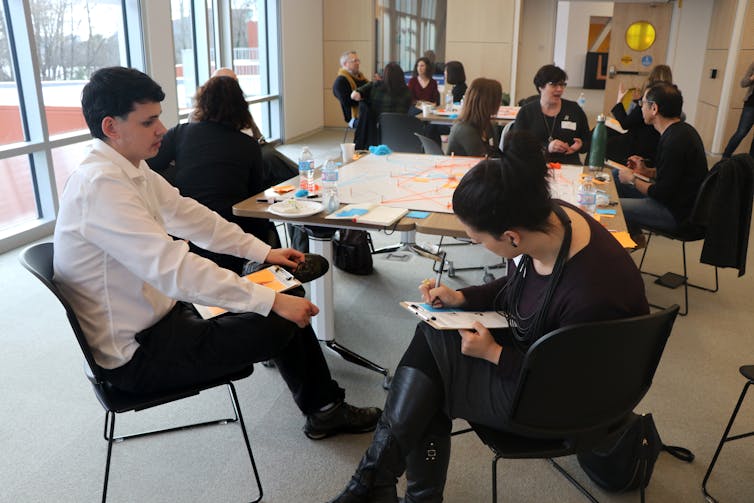 "I found the format of the workshop was incredibly useful. It allowed for the participants to talk freely as well as create a visual representation of how people have different experiences navigating the system," said one participant.
Videos, newsletters and storytelling
In these workshops we learned that time, money, location, language and format are all barriers for families trying to access reliable and credible research.
To improve knowledge exchange, family and researcher suggestions included using: Knowledge brokers, a physical and online platform, video conferencing, mentorship opportunities and the delivery of research results through videos, newsletters and storytelling.
Overall, there was a clear desire for a web platform to curate credible ASD research for families and disseminate it through more diversified and accessible communication modes. With funding through PAFN, Emily Carr University and the Michael Smith Foundation for Health Research, we are now moving into the next phase of collaborative design of this web platform.
---
Many faculty and students at Emily Carr University have contributed to this work over the past three years. We would like to acknowledge the contributions of: Jonathan Aitken (past HDL director), Caylee Raber (current HDL director), Deborah Shackleton (dean of design and dynamic media), and the following research assistants — Stacie Schatz, Ateret Buchman, Natalia Franca, Zora Trocme, Amanda Roy, Dina Smallman, Juliana Forero, Lauren Low and Rachelle Lortie.

Caylee Raber works for Emily Carr University of Art + Design.