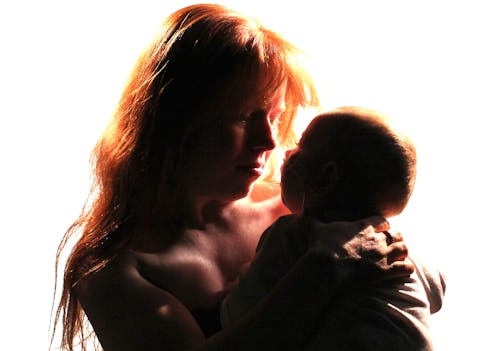 Mia: Daughters of Fortune is a play at the Edinburgh Festival Fringe about a young woman who falls pregnant. The actors ask the audience to call out the things that are normally said when we hear this kind of news. They shout things like "Congratulations!", "Is it a boy or a girl?" and "You must be so happy".
In Mia's case, however, none of this applies. This is because she has a learning disability. When women like Mia get pregnant, what follows is a long way from a baby shower. The priority is an assessment by the authorities to determine whether the child will be at risk after they are born. In about half of all cases, the child is taken away.
Mia: Daughters of Fortune is a production by the Mind the Gap theatre company from Bradford in England, the biggest theatre company for actors with learning disabilities in the UK. Within the opening scene, the play touches on an area of great stigma and taboo: the idea that people with learning disabilities have and want sex. Despite this reality, particularly for those in special education services, they are often excluded from sex and relationship educational programmes.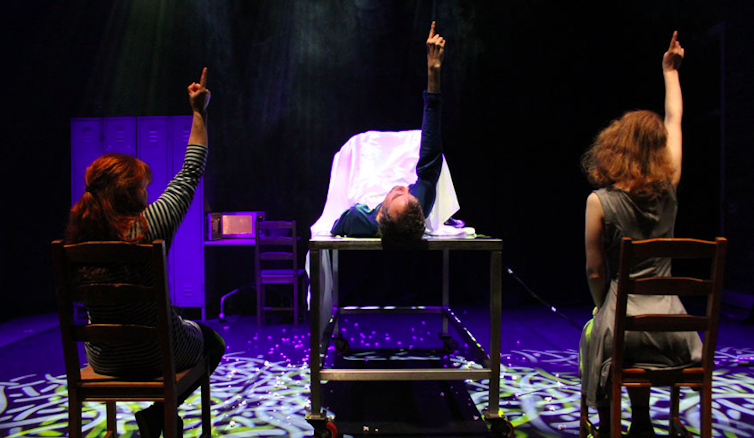 When the topic of sex is raised for people with learning disabilities it is usually accompanied by the word "risk". This, too, often leads to a flurry of assessments and investigations, with a number of people suddenly declaring a vested interest in what happens between someone else's sheets. All the while, the person in question is expressing entirely normal and appropriate feelings that they were entitled to be taught about and to experience but weren't and aren't.
Mia explores this reality through a variety of techniques, including dance, movement, live camera work, recorded video and an interactive gameshow called Don't Drop the Baby. It is based on the lived experiences of the sister of Alison Short, one of the principal cast. The sister and her partner both have autism spectrum disorder.
Reality check
The play makes a convincing job of exploring the feelings of powerlessness that accompany pregnancy for people with learning disabilities. The range of professionals who get involved all have the best of intentions, but the audience is continually reminded that their presence is only felt and known because of who Mia is.
The onus in such cases is effectively on the parents to prove that the child will not be at risk, and that they are prepared for childbirth and the responsibilities of raising a child. They are often disempowered and disproportionately disadvantaged and the unborn baby is seen as a risk rather than a chance.
In one revealing scene, Mia asks the social worker carrying out the assessment whether she herself had to undergo any tests before she could have a baby. It is startling to hear something articulated that so often goes unsaid. The social worker's embarrassed answer that there's no equivalent highlights perfectly the power imbalance that exists between professional services and the people they are supposed to support.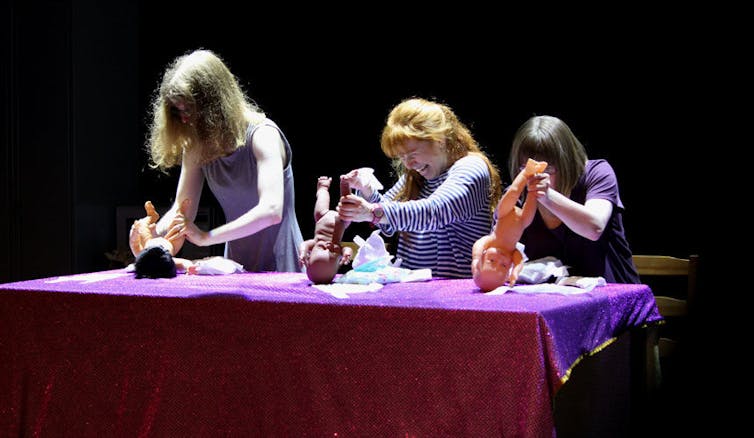 Though the play is very much told from the point of view of the pregnant woman, it doesn't say anything about learning disability nurses – the one group who are trained specifically at undergraduate level to support people with learning disabilities.
In the context of someone like Mia, such nurses would have a vital role in supporting the woman to overcome any skills deficits and address anything she doesn't know about caring for the child or herself. They are trained to always focus on increasing independence and reducing the need for any service-level interventions. This isn't reflected in the play.
What to change
But Mia: Daughters of Fortune is nevertheless an intelligent, touching and incredibly witty and warm piece of theatre. The cast make an excellent job of educating the audience about an uncomfortable subject, prompting questions about how we approach sex and relationships with people with learning disabilities both through professional bodies and society as a whole. It explores relationships for these kinds of people in the broadest sense, including friendship, family and love.
To improve the status quo, we need to give people with learning disabilities access to the same sex and relationship education as everyone else. This would be the best way to encourage them to have children within a stable, happy family environment.
If they do get pregnant, it is obviously right that the safety and well-being of the child is the top priority. Unfortunately assessment is therefore necessary. But the authorities need to move away from the starting assumption that the child will be at risk.
They need to adopt an approach that concentrates on the strengths of the couple and supports them to stay together as a family, with a view to avoiding the trauma of removing a child. Mia: Daughters of Fortune, which will tour the UK once it closes in Edinburgh, is a timely reminder that, when it comes to people with learning disabilities getting pregnant, we need to think again.

Sam Abdulla does not work for, consult, own shares in or receive funding from any company or organisation that would benefit from this article, and has disclosed no relevant affiliations beyond their academic appointment.